The best bars in Merano
un' Aperol spritz per favore!
Merano – where alpine heart meets Mediterranean flair. In this charming South Tyrolean town, tradition and trend blend seamlessly together. From the quaint spot nestled among historic arcades to the trendy cocktail bar – and of course, let's not forget about
the best cafés in Merano
. Whether you're a wine lover, a cocktail enthusiast, or just out exploring, be enchanted by South Tyrolean charm and find your new favorite spot. Cheers!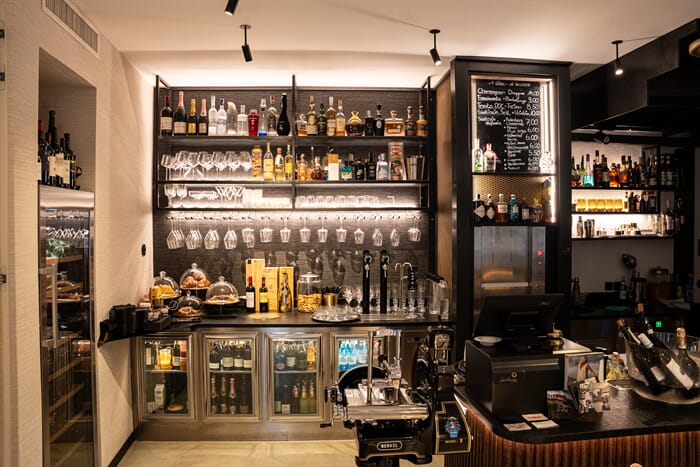 In one of the many galleries, nestled between the historic arcades, you'll discover a true gem among the bars in Merano. Adjacent to the boutique "les libres," this establishment offers the perfect fusion of shopping and aperitifs at the highest level of quality. From exquisite wines to regional whiskeys, every palate is sure to be delighted. Seasonal small dishes and snacks make the perfect companions to your aperitif, while homemade cakes complete the culinary offerings. The ambiance of this lounge bar is pivotal, boasting luxurious furnishings and a spiral staircase that leads to a cozy upper floor with a sunny rooftop terrace. Enjoy an Aperol Spritz and snacks amidst the rooftops of Merano's arcades – what more could you ask for?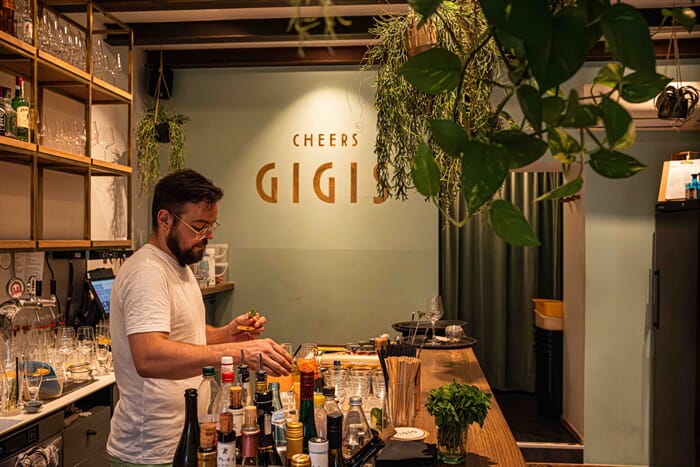 Gigi's Bar shines with its prime location right on the Passer River, along the promenade – a perfect place to unwind and escape from everyday life. The bar impresses with a diverse selection of sensational cocktails, ranging from popular classics to house specialties that cater to every taste. Additionally, fresh dishes are occasionally served to complete the indulgence. The predominantly young and dynamic crowd not only underscores the bar's successful concept but also creates an infectiously positive atmosphere that welcomes every guest, including you.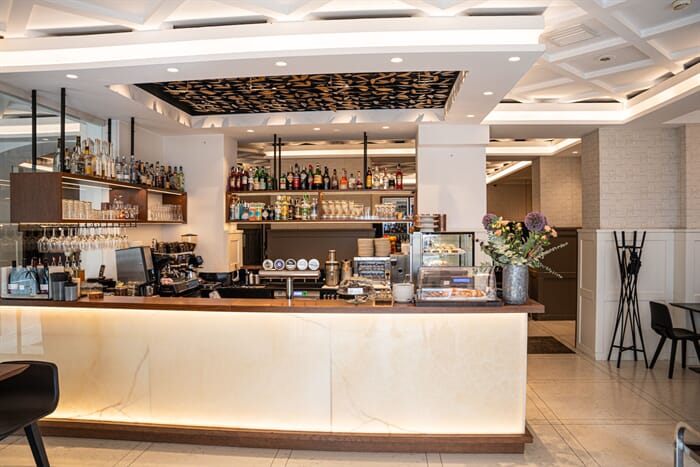 Welcome to Liberty's, a meeting point in the heart of Merano! From morning till evening, a diverse culinary experience awaits you here, cherished by both hotel guests and locals alike. Whether it's aunts engrossed in coffee chitchat, youngsters sipping fresh orange juice, or elegant ladies enjoying a bubbly Monreale sparkling wine, alone or accompanied – the terrace of Liberty's offers the best view of the bustling activity on Merano's main street, the vibrant heart of the old town. Take a seat and immerse yourself in the authentic Merano ambiance!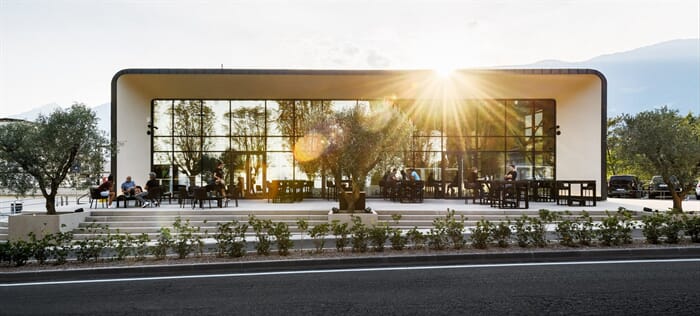 Just a stone's throw from Meran, the "Tuo" Bar emerges as a modern gem in the bar scene. Despite its young age of only two years, it already embodies elegance and innovation. Here, exquisite wines and high-quality spirits meet passionate cocktails. Yet, what truly sets it apart is the "Pinsa Romana", a delightful twist on pizza. The ambiance is contemporary and inviting, perfect for special occasions and celebrations. A must-visit for anyone valuing both culinary delights and outstanding drinks.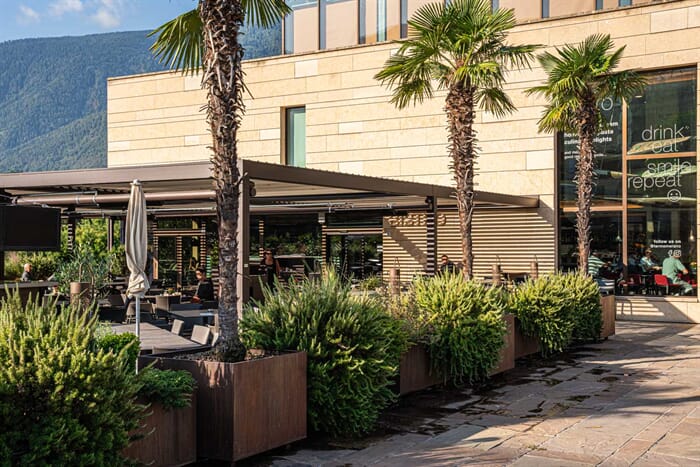 In the Palm Lounge at
Hotel Therme Meran
, the evening simply becomes relaxed. Whether you drop by for a quick end-of-day sparkling wine or stay for a longer chat, you'll instantly feel at ease. And while the drink selection on its own is impressive, the ambiance with red carpets, golden deer heads, and palms becomes a real eye-catcher. Mediterranean flair meets alpine chic, and that's what sets it apart. Whether you're a local or a tourist, this lounge is the perfect spot to unwind after a long day and soak in the Meran vibe.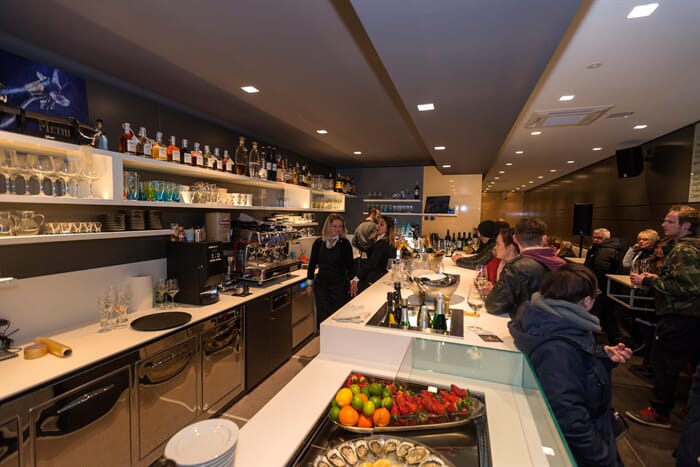 This establishment lives up to its reputation, perfectly embodying the ambiance, design, atmosphere, and, of course, the ice-cold drinks. Situated in the heart of Merano, right at the beginning of Freiheitsstraße and just 50 meters from the historic Sandplatz, it has been passionately owned and operated by Robby for over 20 years. It's the ideal place for a spontaneous Aperol Spritz or a relaxed coffee with a delicious gelato.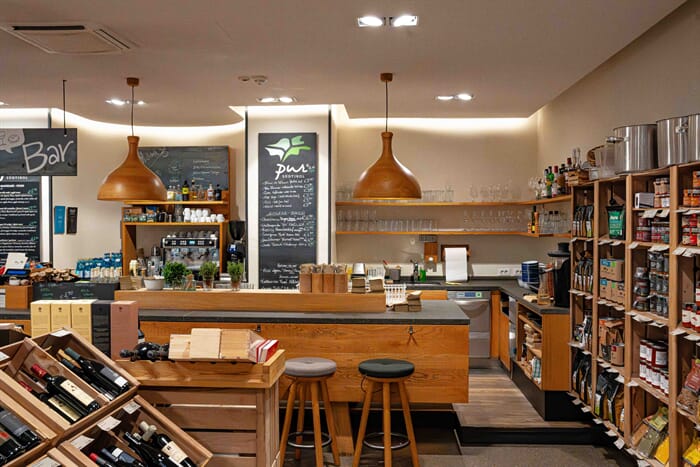 Are you looking for genuine quality from South Tyrol? Then you've found the right place at PurSüdtirol! With five branches throughout the region, it's more than just a store. Here you can discover exclusive South Tyrolean products and also relax in the integrated bar. Enjoy regional delicacies and aperitifs in an environment that radiates cleanliness and order. And don't forget the beautiful terrace right on Via delle corse di Libertà, in the heart of Merano. PurSüdtirol stands for quality – a true emblem of the best South Tyrol has to offer. Come by and immerse yourself in the authentic South Tyrolean experience.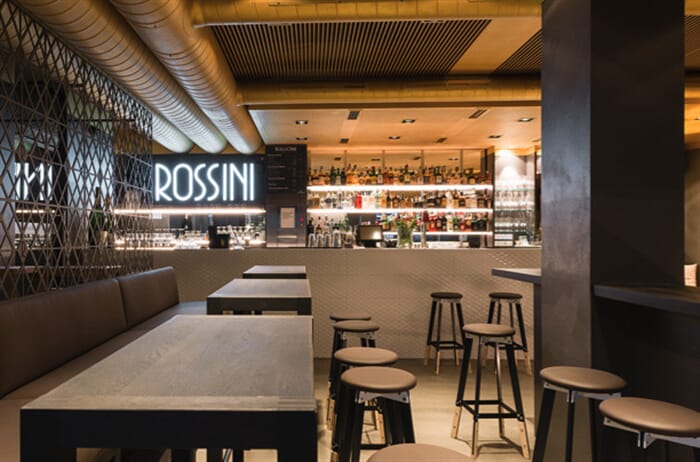 The Rossini Cocktailbar is a trendy meeting spot in Merano, known for its excellent drinks and high-class events. After a stylish renovation, Rossini stands out with its fine materials, modern space concept, and fashionable ambiance in the heart of Merano. Located on the upper main street of merano, it's among the top addresses for locals and visitors. In a relaxed atmosphere, one can enjoy an aperitif, trendy cocktails, and a wide range of drinks. Rossini welcomes you daily from 09:00 - 01:00.
Recommended accommodations