Merano during the coronavirus epidemic
Up-to-date information on the subject of vacations and coronavirus in South Tyrol can also be found on the
IDM page
set up especially for this purpose.
What is currently happening in Merano, but of course also in South Tyrol, Italy, Europe and now worldwide, is rapidly changing all our lives. Everyone is affected in some way, regardless of origin, age, race or social status. The Covid 19 pandemic has also reached us in Merano, after it has already hit some areas of northern Italy, our direct neighbors.

The spa town of Merano, but also its breathtakingly beautiful surroundings are strongly determined by tourism. And we can be proud of our tourism: Here at the foot of the Texelgruppe and the Ifinger, quality tourism is offered. The high density of 4 and 5 star hotels in Merano and its surroundings, which have earned an excellent reputation not only with traditional hospitality, but also with the highest professionalism in service, cuisine and cellar and last but not least - with their modern structures. The landscape, which ranges from Mediterranean to high alpine, from blossoming orchards to the rugged rock faces of the Ifinger, speaks for itself. The numerous attractions such as the new thermal baths of Merano, the botanical gardens of Trauttmansdorff Castle, the new cable car Merano 2000 and the numerous museums, stores, restaurants, bars, etc. speak for this as well; which are so popular and could report real boom years in recent years.

This year this is (still) different. Meran's squares, streets and alleys, as well as its walks & promenades are currently, as all other tourist regions in Italy and in the Alps as empty. Empty of guests, empty of encounters, empty of everything. Currently, due to the strict quarantine, we locals are only allowed to leave the house under certain conditions. We can't drink coffee in the bar (they are all closed!), we can't enjoy lunch in the sun in one of the numerous restaurants. We even refrain from excursions and walks. Many currently also simply have no work because they work in tourism.
Even if reluctantly, we accept these restrictions and do our best to banish the spectre of Covid-19 from Merano - so that normality will soon return!

In the meantime, VisitMerano will try here to document the current situation in Merano, to draw comparisons, to show unprecedented, and last but not least, to accompany the hopefully imminent end of the pamdemia and the imminent start of the 2021 tourism season:
Recap- The second Corona half year 2020
A brief review of the last few months of this COVID-19 year 2020.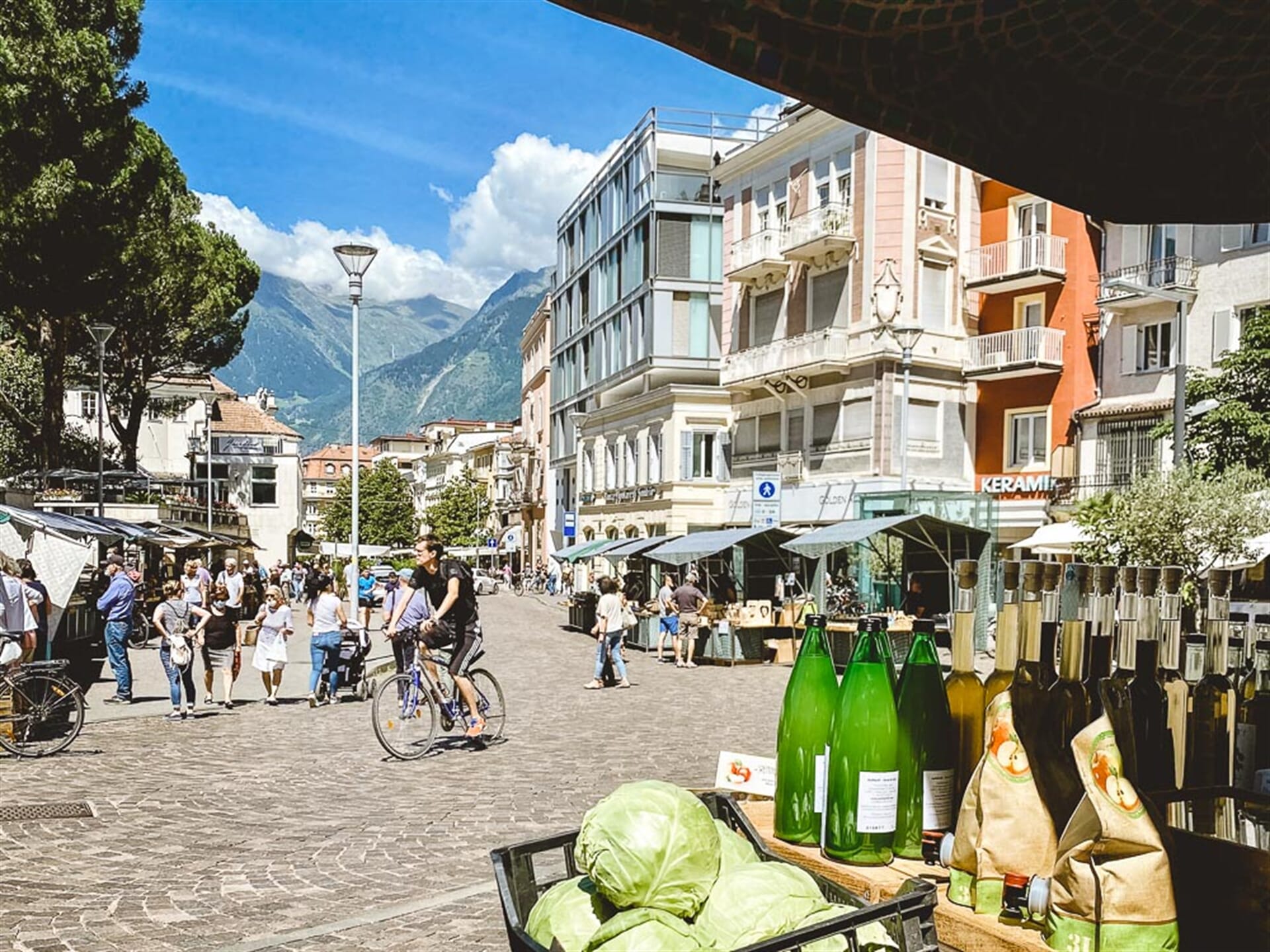 It was a good, a great summer season 2020 for guests, locals and also the hotels in Merano, despite all adversities. With extremely low infection figures, it was very easy to live in Merano and the surrounding area, the city was lively, and for some time there was even no requirement to wear a mask as long as you stayed outdoors and kept the necessary distance from your fellow human beings. From September 2020, however, the impacts came closer. It was mainly returnees who brought the virus back to their home areas, which brought steadily increasing numbers of infections throughout South Tyrol. The distance and hygiene rules were constantly tightened, but still more and more people were infected, which finally brought a travel warning from the Foreign Office of the Federal Government. At the same time, more and more events in Merano were canceled. So no grape festival, which normally attracts over 30,000 visitors, shortly after the Merano Winefestival was canceled. All hotels were forced to close in October and, unfortunately, to release their many employees.
Those who were still optimistic about experiencing a halfway normal winter in Merano were bitterly disappointed: the Merano Christmas Market was canceled, and dark clouds were also gathering over the skiing sky. After a long back and forth, the opening of the ski areas was postponed, first from the beginning of December to Christmas week, then to January 7, 2021. As can be seen in the national press, this date is currently also under discussion, there are more and more voices that this date can also slip back to Mid February 2021

But there are also positive things to report: The population in South Tyrol has proven that it holds together in the crisis. In the course of a mass test, more than 70% of the population volunteered to be tested, which not only curbed the infection figures but also considerably reduced the pressure on the hospitals in the region. On the whole, the mood and the population is rather positive, the prevailing opinion is that with the arrival of the first vaccinations and the upcoming warm months starting in March, something like normality will slowly return. Of course, we also look a little worried over our borders, especially where our guests come from. They are also groaning under the burden of the pandemic, the still existing travel warning provides for a 14-day quarantine for all those who travel to risk areas. At the moment it seems (and we believe!) that with the help of the upcoming vaccination campaigns and the warm spring and summer months, vacations in Merano will be possible again, the best hotels in Merano have already set their opening dates and created interesting packages.
April 30, 2020
When will the hotels in Merano finally open?
In a new blogpost we talk about the reopening of the hotel operations in Merano and in South Tyrol. When can things get going again? When can the hotels in and around Merano welcome guests again? We have analyzed the current situation and tried to provide an outlook.
April 17, 2020
Video: Springtime in Merano during the Covid-19 Lockdown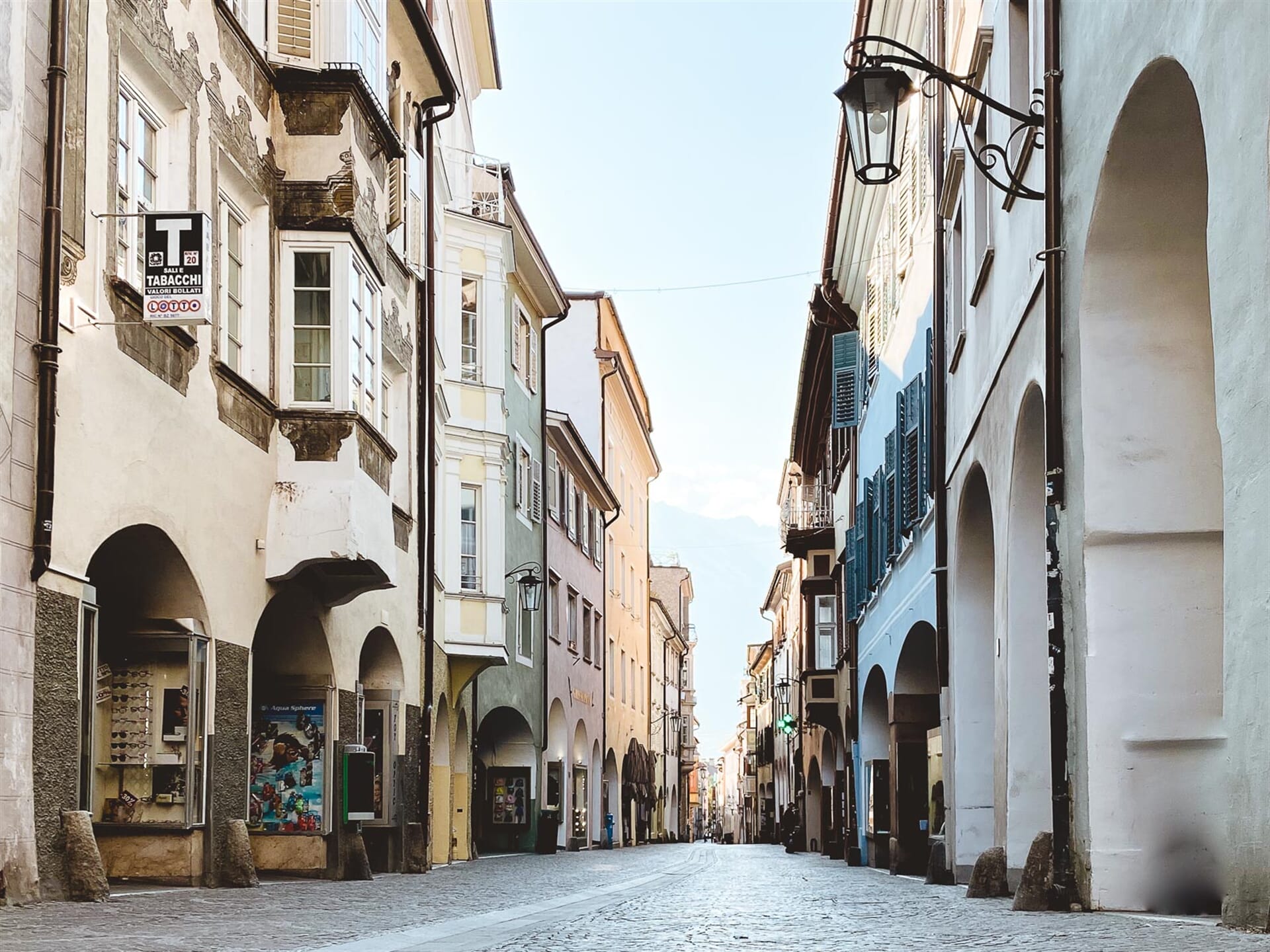 There is a new video! This time everything revolves around the highlights of the Merano spring. We have set out for all those who have to do without your spring vacation and visited with the camera just those places that are particularly suggestive and inviting in this season.
How does it look just these days in Merano? And how do we feel when we think of our friends and guests?
The shots for this video were taken last Friday, in the early afternoon. It was surreal to experience our beautiful city at over 20 degrees and a magnificent bloom quasi in Sleeping Beauty sleep.

We continue to stay at home, so that the promenades, streets and squares, but also bars, restaurants and stores soon fill with life again. Let's hope that we all don't have to experience anything like this again.

Stay healthy wherever you are!
March 20, 2020
Picture in picture - 1 year in between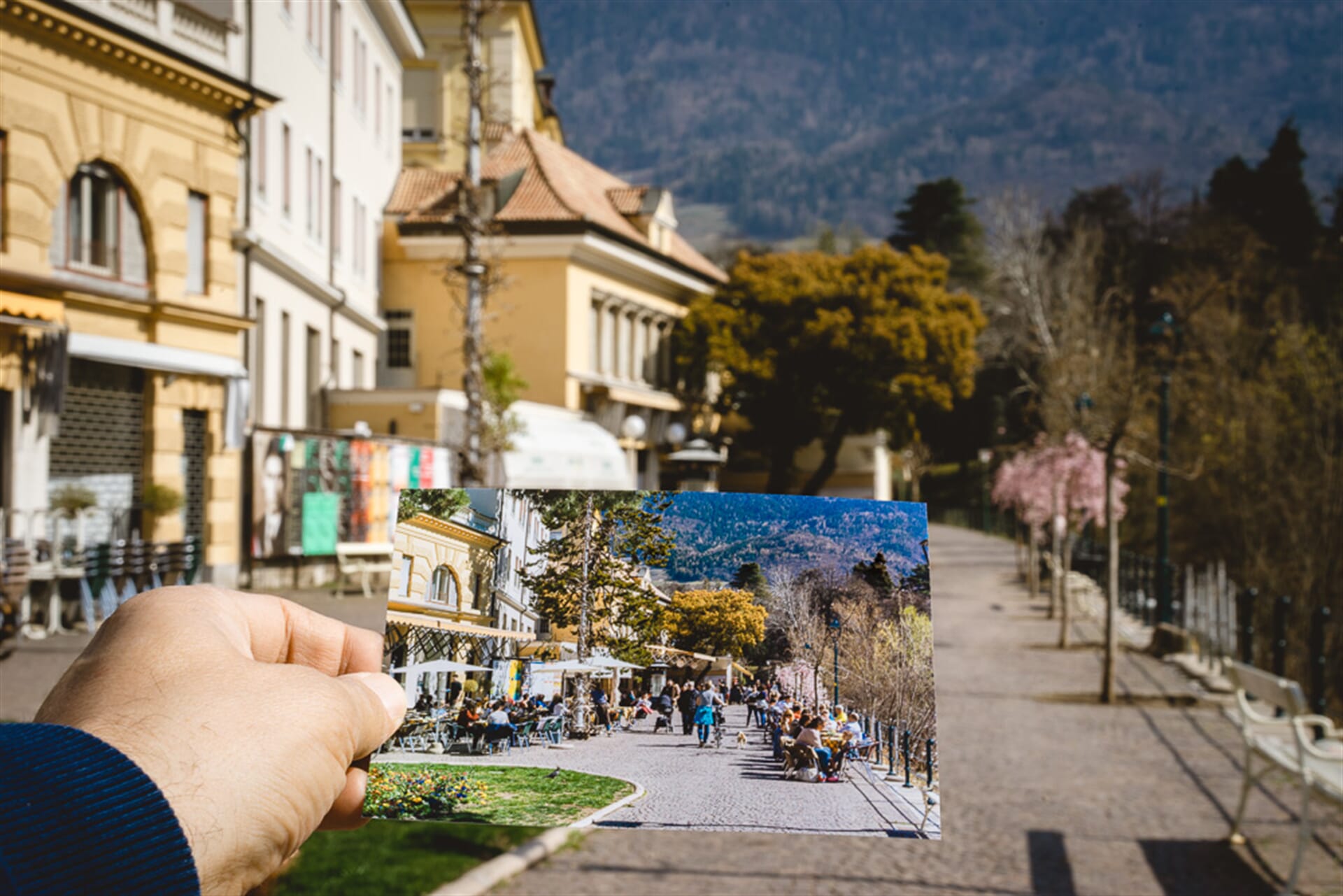 This picture was taken this afternoon. The picture, which I hold in the picture, comes from March 20, 2019, thus lies between the two shots exactly one year ... both were taken in front of the popular Caffè Darling, where usually, as today at spring-like 21 degrees rarely remains unoccupied a table outside. After all, there is nothing better than to enjoy coffee and cake, prosecco and sundaes in the sun, right?
As tragic as this looks at first glance, you can also see a positive aspect: We really drop everything when it comes to it and stick together to get rid of the annoying Covid-19 virus as quickly as possible!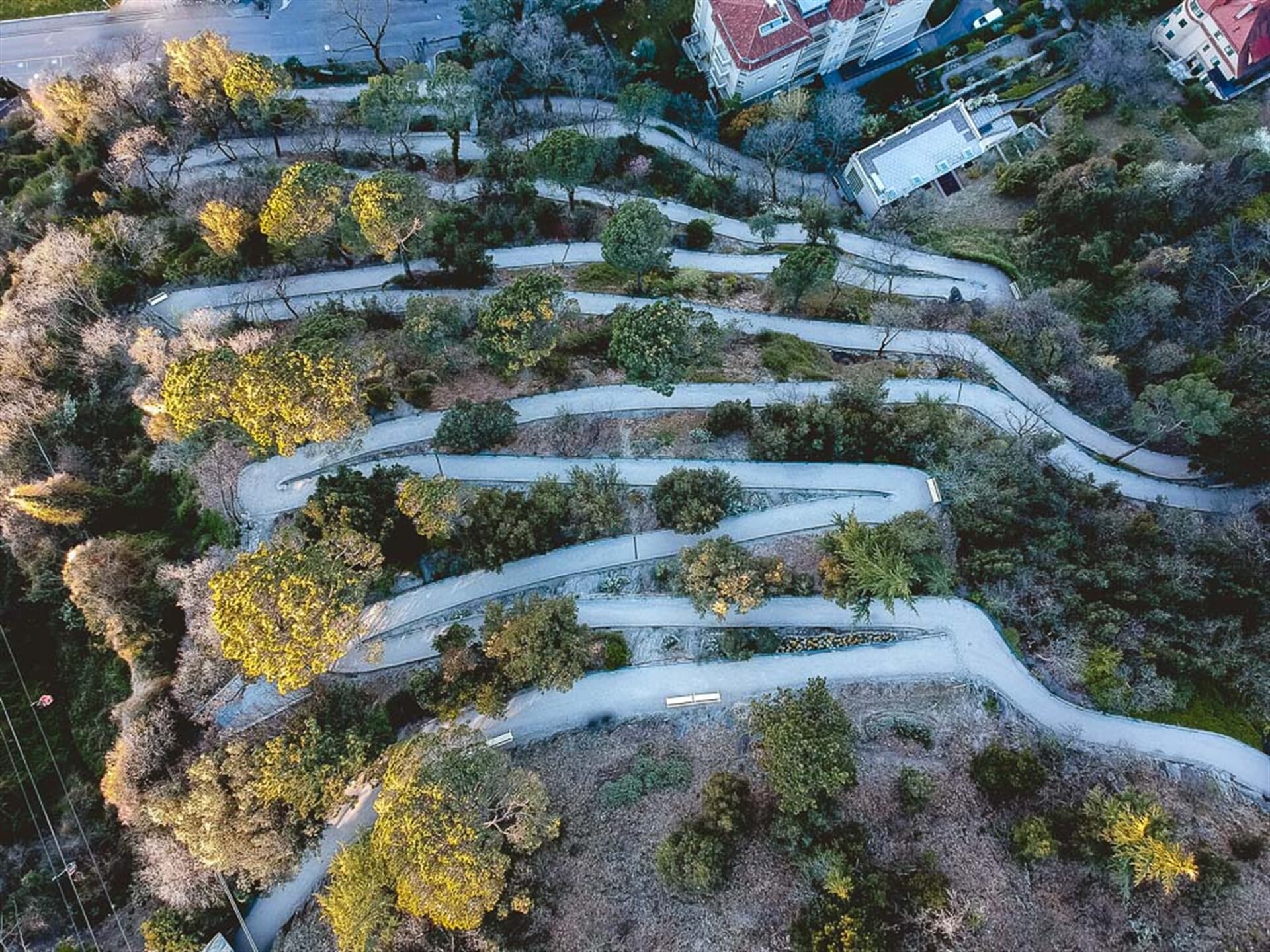 Here the serpentines, which act as a popular access to the Tappeiner promenade from the city center of Merano. As of today, these are also closed, as well as the entire Tappeinerweg,the recreation area Lazag and all promenades. According to a dispatch from the municipality of Merano, this is to prevent the formation of crowds, but also the possibility of several people meeting on narrow walking paths.
It is to be hoped that this further measure will also help to ensure that this crazy time will soon come to an end as quickly as it began....
Here at the Meraner Wandelhalle, under normal circumstances at this time of year, dozens of people can be found at the same time. Hurried businessmen who have to go to the office, elegant ladies from Obermais on their way to the morning chat in the coffee houses, but also many, many guests, mostly with pulled out smartphones to capture the magnificent spring photographically.
In the video the situation this morning.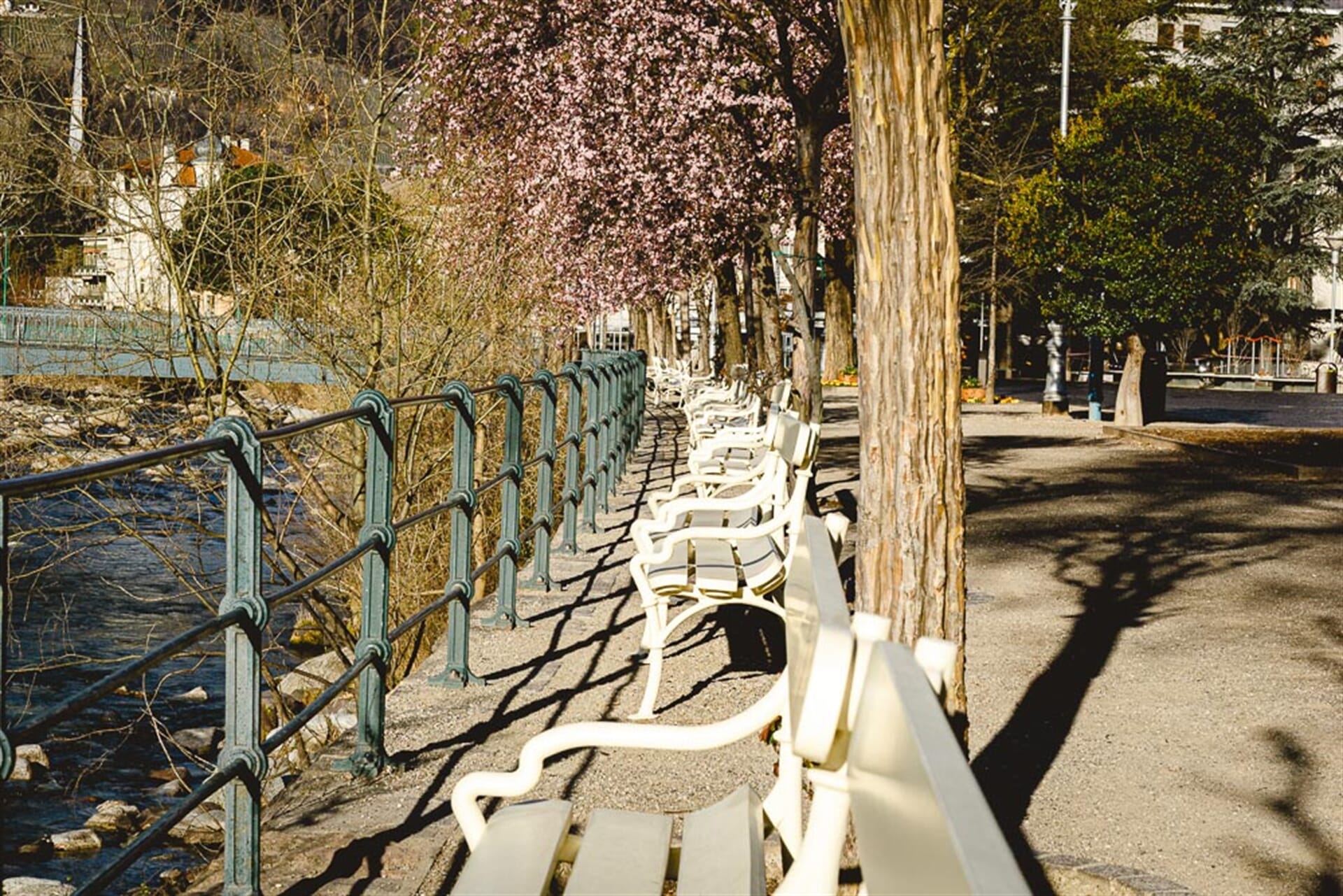 This has never happened before, not even during the world wars, when Merano served as a hospital town. Despite fantastic weather, spring-like temperatures and a fabulous first bloom, the park benches on the spa promenade remain empty, just as the promenade itself is deserted.
Unbelievable, but true. Here at the crossroads near Rametz Castle, where three busy roads meet, there was no traffic at all at 11:20 this morning. Normally at this time of year, delivery cars and cars from and to Merano, Scena and Avelengo, bumper to bumper.
March 15, 2020
The first spring Sunday 2020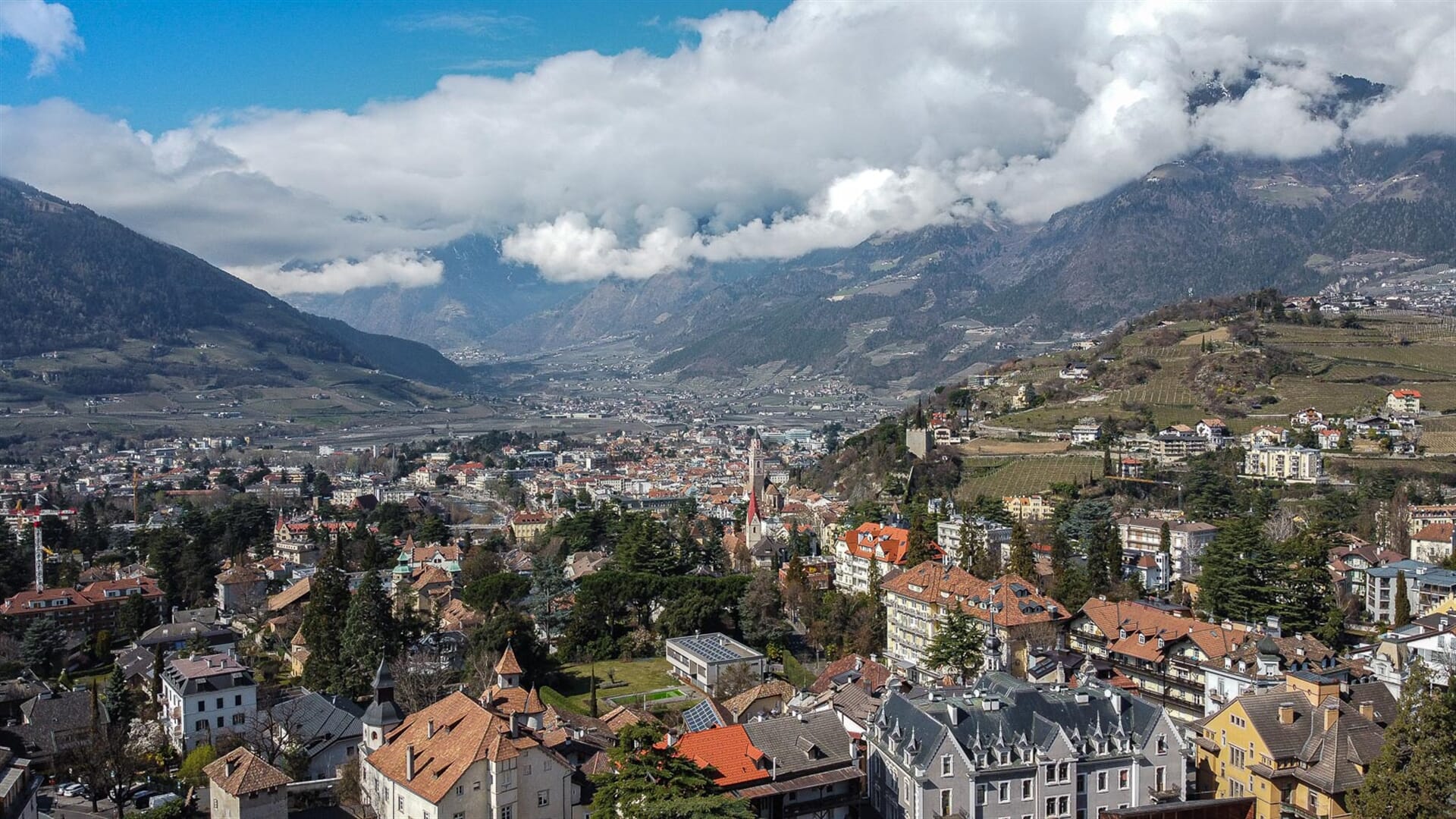 After the sun has prevailed today in the middle of the morning against the tenacious high fog, today's Sunday has become a quite respectable first Sunday of spring! Especially in the sun was quite pleasant, so it was no wonder that today at lunchtime the balconies and gardens of all those who were forced to be at home, were virtually overpopulated by sun lovers :-)
Recommended accommodations